I've been absent from the blog for a few days. I'd like to tell you I've been working on my proposal or the paper I will be giving in a little over a week or grading student projects, but the truth is... I've been gone and I don't know where. I've been doing things sure: watching M's softball game, hanging out with friends, listening to music, wondering what kind of summer job I can get since my class fell through. I suppose I've escaped into my life, which looks strange as I type it but it rings the most true in my mind. This semester has been a difficult one and I've taken a lot of time away from working on academic endeavors. And it's a break I needed but I feel guilty for taking it. This is the theme of my life: feeling guilty for accepting what I need and want.
I hope to return to regularly scheduled posts soon. Today is my 3 yr. anniversary, which all of you who know me well, know how crazy and strange it seems to me that someone has stuck with me for so long. That's a very Devon way of saying, I love you, M.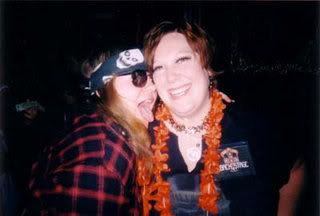 Michelle and I at Halloween; Marie noted this was a typical picture of the two of us where I'm smiling and Michelle is making a crazy face.