When green starts to appear after months of grey, brown, and bare trees it makes me feel hopeful. I feel a sense of growth and change. In this spirit of change I announce the wait for my new laptop is upon us. You see, my Mac committed suicide after struggling through the accidents that had been enacted upon it, the strange, cruel twists of fate such as they are. I debated for a week about what type of machine could replace my beloved Mac who I'd named
sweetbaby
.
M and I settled upon this: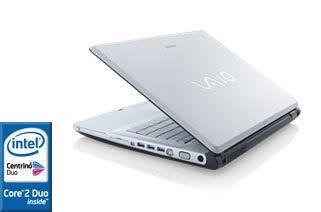 The Sony VAIO® VGN-FE890 CTO. 2 GHZ Intel Core 2 Duo Processor, 2 GB SDRAM, 120 GB Hard Drive, Built-in Camera, Wireless Presentation Mouse, Windows Vista Premium and most importantly, a 3 year onsite Service Plan plus Accidental Insurance from Handling. Oh yes, I have learned my lesson.
Alas, I have returned to the land of PC's. There are positives and negatives to this return as with any change. I feel that I will be extremely happy with my VAIO. A fellow graduate student and techie told me she requested a VAIO from the university where she'll be teaching in the Fall. I am excited about the possibilities of the new relationship I will forge with the laptop once it arrives. In the meantime, I'll be thinking of what to name it. Feel free to comment with suggestions.