As countless pamphlets, websites and brochures have told me in the weeks spent planning the weekend Valentine getaway, the saying "Will it play in Peoria?" is supposedly a phrase asked by Groucho Marx when putting together one of his acts. The idea is that if shows were successful in Peoria, the representation of the average American city, then they would be successful anywhere in America. Here are a few things I noticed about Peoria on our trip:


1.Entrances and exits are not clearly marked, especially when snow is present.
2.Tow trucks and snow plows are free to go through red lights.
3.ATM's are incredibly difficult to find and once you locate one for your bank it is locked behind gates inside the building or in between buildings in a very dark and strange alley.
4.Places to eat may close without notice despite posting winter hours.
5.Mapquest does not understand how to navigate the city.
6.Things may be closer than they appear but it's hard to tell with so many one way streets.





That being said, the hotel was wonderful. Everyone from the front desk to the housekeeping staff was pleasant and helpful. I loved the boutique feel of the hotel. The bed was incredibly comfortable. Once we got the television on the correct channel, the DVD and surround sound was very, very cool. I would definitely stay in the same hotel again despite the fact that because of the snow, the back stairs were super slippery and I fell down bruising myself a bit.

Friday night we arrived around 6, hung out in the hotel room and relaxed before heading to Vonachen's Old Place. Unfortunately I did not take a picture outside but you can see from the link that part of the restaurant is in an old railroad car. M and I had our own private dining car. The room itself was incredibly small but once seated in the booth, I did not feel cramped. The window overlooked the bar of the restaurant not in the dining section of the car. It was cool. Here is a picture of Michelle, which isn't great because it's on my cell phone.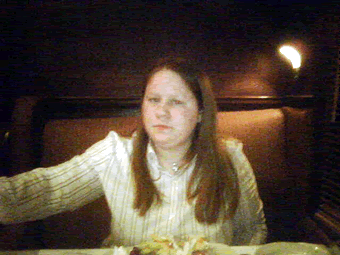 It started snowing before dinner and so we decided to wait until Saturday to go to InPlay where M had been wanting to go for a while. Sadly, it wasn't what we thought it was but we still had fun. We also took this picture at one of those sketching booths.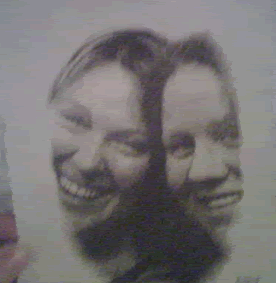 Again the quality of the image is distorted because of my phone.

Saturday night we tried to find this restaurant I'd heard about which ended up being closed. We then tried to find somewhere else to eat but in a city that is unfamiliar all that we could find were chain restaurants which we didn't want. It was sad and frustrating. We finally ended back at the hotel where we ate at Pizzeria Uno Grill, which was very good and I"m sure really low in fat. Our friend, Erin met us and we went to the Boat to play nickel slots. I thought I felt lucky but I guess it rubbed off on Erin because she won 80 bucks and I lost 80 bucks. So sad. I had a good time though and feel happy and refreshed from our weekend. Sometimes some time away from home can be good. Even if you don't travel far.